Jurassic World: Dominion Dominates Fandom Wikis - The Loop
Play Sound
"
Yeah, DJ K.C.'s all about those BPM's. That's beats per minute, according to Wiki-wiki-pedia.
"

—

K.C.

to Guy at the Dance
Coopers Reactivated! is the first episode in Season 2 of K.C. Undercover and the twenty-eighth episode overall. It first aired on March 6, 2016 to 2.08 million viewers.
Plot
K.C. is finally coming to terms with no longer being a spy, but when a feared criminal escapes, the Coopers are given a chance to rejoin The Organization and plot to get Judy back.[1]
Cast
Main Cast
Guest Cast
Trivia
The working title was, "K.C. Is in the House!" and "We're Baaack".
This was the first episode of Season 2.
The Coopers got reinstated back in The Organization and Judy is reassigned with them.
When Judy gets reprogrammed, she uses the same line she used on K.C. in My Sister From Another Mother... Board on Penelope.
This was the second time that K.C. is disguised as a man with the first time being in the episode K.C.'s the Man and the third being in the episode Dance Like No One's Watching.
As mentioned by Craig himself, in terms of continuity, this episode takes place a month after the first season finale.
When K.C. Says to Darien "You got 99 problems and you can't solve one" she is referring to the song "Problem" by Ariana Grande
This episode was the first appearance of Darien.
Chris Tavarez previously starred in the 2010 Disney Channel Original Movie Avalon High playing Lance.
The Jackal escaped from prison.
In some countries this episode is divided into two episodes and named it "Coopers Activated! Part 1" and "Coopers Activated! Part 2".
Though many enemies have previously died, or have been discussed as dying, this is the first confirmed death.
This is the first hour-long episode of the season.
Craig having to go on a mission on his own and K.C. going in disguise instead of him could be a parody of the Disney animated classic Mulan.
Take Note that in the Season 1 Finale, it was Agent Beverly who banned the Coopers from being agents. But Agent Johnson unbanned them in this episode. Ironically enough, we never see Agent Johnson or Agent Beverly on screen together.
When Darien says hey to Marisa, he also says "Hey, new girl." to K.C.. When he leaves he calls her Katie, which is close to the working title for K.C. Undercover which was Super Awesome Katy.
Craig goes on a mission to find The Jackal alone.
Darien got a "B" on his math test.
International Premieres
March 6, 2016 (Canada)
March 29, 2016 (Australia)
March 30, 2016 & March 31, 2016 (UK and Ireland)
May 6, 2016 (Spain, Portugal)
May 20, 2016 & May 27, 2016 (Philippines)
May 27, 2016 (Italy)
June 4, 2016 (Latin America, Brazil)
July 13, 2016 (Israel)
July 18, 2016 (Africa on Disney XD)
Quotes
Gallery
| | |
| --- | --- |
| | To view the Coopers Reactivated! gallery, click here. |
Videos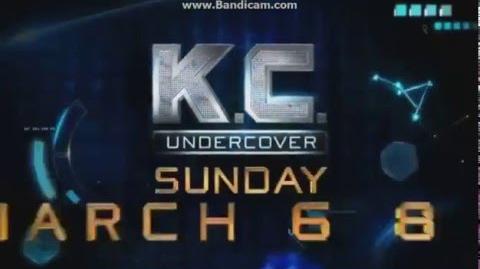 References