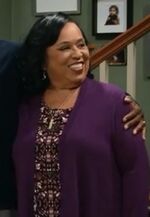 Gayle King (also known as Grandma Gayle) is a character on K.C. Undercover. She is the grandmother of K.C. and Ernie Cooper, and the mother of Kira and Erica.
She is portrayed by Roz Ryan.
Summary
She appeared in "Off the Grid" to help K.C. and Ernie stop Regina Honey from killing their parents. She appeared in "K.C. and Brett: The Final Chapter Part One" where she was staying with the Coopers because Othello was out of town. She did appear in "The Legend of Bad, Bad Cleo Brown" telling K.C. and Ernie about the first black female spy.
Personality
Grandma Gayle is quite sassy. She doesn't let anyone or anything get in her way no matter what. She often forgets what she's talking about.
Character History
TBA
Physical Appearance
Grandma Gayle has black, curly hair, brown eyes and light brown skin. In "The Legend of Bad, Bad Cleo Brown", she had black hair with brown highlights.
Family
K.C. Is Grandma Gayle's granddaughter.
Ernie is Grandma Gayle's grandson.
Craig is Grandma Gayle's son-in-law.
Kira is Grandma Gayle's daughter.
Grandma Gayle knows about Judy being a robot and spent a while with her in "K.C. and Brett: The Final Chapter - Part 1".
Erica is Gayle's evil daughter that is the wife of Richard Martin and mother of Abby Martin. She joined the The Other Side after she found out that her parents were spies. Later on, she went into hiding from The Organization and The Other Side. Then, K.C. and Kira found her and has reunited with Abby. She began doing evil actions again with Abby and Richard. She eventually got caught and put in The Organization's prison.
Appearances
Season 1
Season 2
Season 3
Quotes
Gayle: Back in my day, we used good old fashioned brain power! Wait, what were we talking about again?
Trivia
Gallery
| | |
| --- | --- |
| | To view the Gayle King gallery, click here. |