"
Mom, dad!
"

—K.C. screaming
Off the Grid is the fourth episode in Season 1 of K.C. Undercover and the fourth episode overall. It first aired on February 15, 2015 to 2.76 million viewers.[1]
Plot
K.C. and Ernie team up with their retired-spy grandparents - Grandma and Pops - to rescue Craig and Kira from a dangerous mission.[2]
Cast
Main cast
Guest Cast
Absent Cast
Quotes
K.C.: Marisa, what are you doing here?
Marisa: Well so far not feeling welcomed.
Wally: Guys, relax. Some assignments take a little longer. It's certainly nothing to pee about.

K.C.: Ok, for the record, that's Ernie. I am completely potty trained.
K.C.: I love Grandma and Pops like crazy but they're so old. I mean what was their last mission? Colonizing the dang Americas?
Trivia
It was the second time (first being Pilot) that a main character was absent in the series, the character being Judy Cooper.
This was the first time the Cooper's grandparents appeared in the series.
This was the first appearance of Regina Honey, she later returned in Take Me Out.
Goofs
When K.C. told Ernie that the reason why their parents hid something in a box full of spinach:

As a vegetarian, K.C. would need to consume spinach manditorily as it is the only source of iron in her diet. Therefore, hiding the thumbdrive with the emergency protocols in a box of spinach would result in K.C. finding it before it was meant to discovered and thus, an illogical choice for a hiding place.

After K.C. pushed Marisa out of the house, she started to walk to the right side of the patio area to leave. The exit gate was actually shown to be on the left side of the patio area. The cause of this is a Fourth Wall Failure, there isn't actually a fence to accomodate the placement of a camera crew, and Veronica headed the wrong way to exit the scene.
International premieres
February 26, 2015 (Canada)
March 26, 2015 (Australia)
May 1, 2015 (UK and Ireland)
May 15, 2015 (Italy)
June 12, 2015 (Spain and Portugal)
July 23, 2015 (Brazil and Latin America)
July 28, 2015 (Israel)
September 17, 2015 (Germany)
September 25, 2015 (Netherlands and Flanders)
October 4, 2015 (Hungary)
October 11, 2015 (Bulgaria)
October 15, 2015 (Turkey - Disney XD)
October 24, 2015 (Poland)
Gallery
| | |
| --- | --- |
| | To view the Off the Grid gallery, click here. |
Videos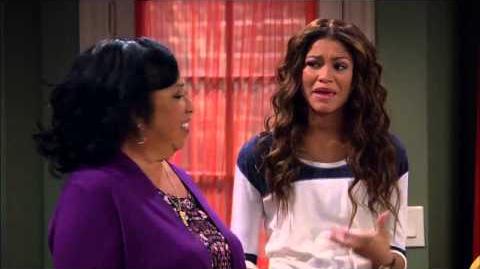 References