"
That's right, we're back baby!
"
Othello King (also known as Pops) is a character on K.C. Undercover. He is the grandfather of the K.C. and Ernie Cooper.
He is portrayed by Charles Robinson.
Summary
In the episode, "Off the Grid" K.C calls in Goose and Gander, which is the code name for Pops and Grandma Gayle. K.C. and Ernie's grandparents arrive to assist in rescuing Kira and Craig from Regina Honey.
In the episode, "The Love Jinx", K.C. calls Othello to come so Craig can get his blessing to marry Kira. At the end of the episode, he is the one who marries Kira and Craig.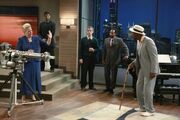 Personality
TBA
Character History
TBA
Physical Appearance
He seems to be in his 70's and has grey hair (he had full black hair in his youth as seen in a picture of him and Gayle with baby Kira) and brown eyes. He is seen wearing spectacles, a blue shirt and dark blue cardigan. 
Family
Grandma Gayle is Othello's wife.
K.C. is Pops's granddaughter. They do get along with each other most of the time.
Ernie is Pops's grandson. They seem to not always agree with each other.
Judy is Pops's robotic granddaughter. It is unknown if Pops has actually met her.
Erica is Pops's evil daughter. She is married to Richard Martin and has a daughter named Abby Martin.
Quotes
TBA
Appearances
Trivia
His favorite spy cover name is "El Dorado" (Spanish for "the golden one").
His cane has a dart in it.
His cane can also expel a toxic gas.
He can't hear very well, which is why he has a hearing aid.
He seems to not be fond of Craig. Because Kira says that her parents were disappointed when she was going to marry Craig and Othello had a argument with him while Craig was trying to marry Kira again.
Gallery
| | |
| --- | --- |
| | To view the Othello King gallery, click here. |
References