Undercover Mother is the twentieth episode in Season 2 of K.C. Undercover and the forty-seventh overall. It first aired on November 6, 2016.
Plot
When Scholastic Achievement Quarterly tries to interview K.C. for being the smartest student in her school, she disguises herself as her mom so she can be featured and hide her identity as a spy.[1]
Cast
Main Cast
Guest Cast
Ariela Barer as Alexis McCreery
Noah Weisberg as C.W. Barnes
Helena Assis as Young Alexis
J.D. McCrary as Young Ernie
Isys as Young K.C.
Sibyl Gregory as Young Marisa
Absent Cast
Gallery
| | |
| --- | --- |
| | To view the Undercover Mother gallery, click here. |
Quotes
K.C. Alright, we go on 3, okay?
Ernie (nods head for agreement)
K.C. Ok. one, two, (Ernie lets go before 3.) Three. I said we go "On 3". That would be the number AFTER 2.
Ernie I told you not to mess around with this interview. I told you, I told you, I told you!
K.C. Will stop telling me you told me and help me get him in here? Ready, ON THREE?
K.C. One, two, three. (This time Ernie didn't let go). What, I said three?

Ernie
I know,
you got all up in my head!
C.W. Uh, I'm sorry, just to clarify, K.C. lives here with you two, her "Moms"?
Marisa Yeah, so?
C.W. Because, it was a surprise.
Marisa Why, 'Cause I'm white?!
C.W. No, no, because my background information says K.C. lives here with her mom and her dad. A Craig Cooper? The guy that's in all the family photos in the sides while you weren't in any of them.
K.C. Oh, well there's a simple explanation for all of that.
Marisa I'm a vampire.
(K.C. electrocuted C.W. with a taser)
K.C. A vampire. You a vampire?

Marisa
Well, I know it's not as original as having "Outta-house-o-phobia" while your father is stuck in space, but then again I'm not the smartest girl in school like you.
Trivia
This episode aired exactly 8 months into the second season of K.C. Undercover.
The working title was "The Interview," which had a different ending--C.W. discovered K.C.'s .identity as a spy but wrote the article the way K.C. wanted in exchange for joining the Organization as a journalist for their secret newsletter.
This was the first time three main characters do not appear in an episode.
Thirteenth time Judy is absent.
Tenth time Craig is absent.
Tenth time Kira is absent.
Goofs
When K.C. was fighting the enemy agents, C.W. was first in the middle of the wall, lying down. On the next cut, we see that he was now on the left. On the next cut, he was back in the middle, the next cut, he was now on the right. And on the last cut, he was back in the middle.
International Premieres
March 6, 2017 (Latin America, Brazil)
Videos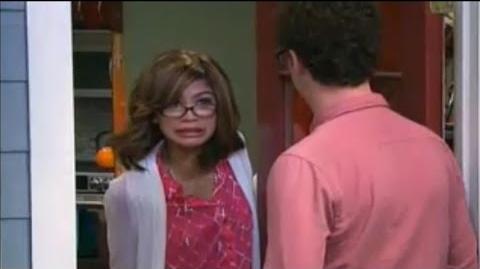 References