"
K.C. and Mom are already mad at you. You really wanna go three for three?
"
Web of Lies is the fifth episode in Season 3 of K.C. Undercover and the fifty-fourth overall. It first aired on July 28, 2017 to 1.48 million viewers.[1]
Plot
K.C. is surprised by the results of her SAT score and believes someone tampered with her test. Meanwhile, Marisa expresses interest in becoming a spy.[2]
Cast
Main Cast
Recurring Cast
Guest Cast
Nick Benseman as Enemy Agent
Gallery
| | |
| --- | --- |
| | To view the Web of Lies gallery, click here. |
Trivia
This episode featured the Disney Channel Live Play experience, allowing fans to test their knowledge of the series with real-time polls, quizzes and trivia on the Disney Channel App via an iOS device.
The original title was, "Testing K.C.".
This begins a five-episode arc dealing with Marisa fully becoming a part of the spy world as well as the rise of The Alternate.
K.C.'s SAT score was 1060. Although, it was revealed Beverly asked Craig to change it, however, she told K.C. Phil from I.T. did it.

1060 was the exact same score Marisa got.

Marisa wanted K.C. to ask The Organization about officially recruiting her. Although, K.C. did not take it seriously. And in the end, Marisa backed off her friendship with K.C..
Zoe asked Ernie on a solo mission, also saying "It's a date". After the mission, Ernie asked Zoe if she wanted to be his girlfriend. Then, it's revealed that Zoe has been assigned to a mission in Antarctica for the next four years.
K.C. snuck out in the middle of the night to take another SAT test somewhere in NYC.
These events of Family Feud and Coopers on the Run were mentioned by Marisa to get K.C. to recruit her into The Organization.

When she helped rescue K.C. and her family from the Martin family.
When she helped to stop the bird smuggler in Rio, although she did not mention when she found out K.C. was in trouble when Zane captured her, in Double Crossed Part 3.
Goofs
At the end of the episode, K.C. was seen wearing a blue and yellow shirt which resembled the Auradon colors from "Descendants".
Quotes
K.C. Well, I found out why my score was so low. Beverly had it changed.
Kira She what? That's it. I'm going down there and straightening out her wig.
K.C. No, no, Mom. Okay? I got a better idea, okay? I'll just introduce her to a couple of my friends... Betty and Joan.

Craig
K.C., relax, and stop naming your fists.
Marisa Well, there has been a favor I've been meaning to ask you.
K.C. Yeah, for sure, just name it.
Marisa Okay. I was wondering if you would be willing to talk to The Organization about officially recruiting me?

K.C.
(laughing) You want them to recruit-- Oh, Marisa, that's good. Thank you. I really needed a good laugh. Oh, you're serious.
Videos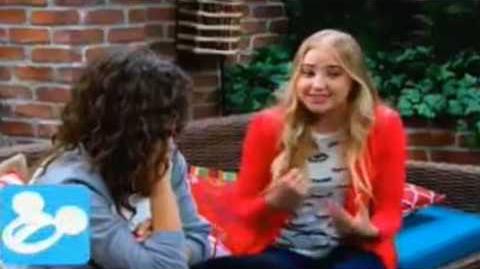 References